A House to Die In. On Mausoleums in Art
A Mausoleum was a prominent burial tradition dating to ancient Egypt, when the remains were placed in a specially designed building, mostly pyramidal.
But it got paid tribute in our time as well. We all know that communist leaders would balsam the body of a leader, be it Lenin or Mao, and place in a special air tight construction with tourists walking around in a line inside a granite serene looking construction meaning to create flair of recognition and overnatural admiration and costing a fortune to maintain.
This is not what I would like to focus on, it is a modern western phenomena in art world, a way for an artist to immortalise himself.
Here in Dean cemetery in Edinburgh we see a crypt shaped as a pyramid. Dean Cemetery is a famous resting place for prominent figures of culture, and although the owner of pyramid is unknown to me, he paid tribute to Egyptian tradition in this obscure way.


Another famous example of a Mausoleum is burial of Emanuel Vineland, brother of sculptor Gustav Vineland famous for Oslo Sculpture Park in Frogner, himself a prominent artist. He created a crypt before his own death, decorated it with vast profound frescos dealing with topics of mundane and eternal existence, and ordered to place his ashes in a sculptured egg in the middle of mausoleum after his death. The construction holds special temperature and acoustics, making it a perfect place for preservation of his fresco artwork and ashes, creating a glorious solemn atmosphere of eternal.
Www.emanuelvigeland.mausoleum.no
Another interesting experiment which caused lots of contradiction was Bjarne Melgaard#s sketches House To Die In, presumably a post/mortem artwork who want to build mausoleum on the grounds of studio of another, alike Emanuel Vineland, iconic Norwegian painter, Edward Munch, in Ekely. The project caused lots of controversy because it would erupt romantic surroundings by post/modernist vision of unrelated to Munch contemporary artist.
I myself quite liked the sketches. Formed as a asteroid, it reminded of that cosmic connection we all have. Every Man and Woman is a star. A meteorite was used to decorate burials by ancient melts, are dedicated own sales at Sothesbys and is featured in closinames Bond Spectre, being a matter of pride and collectable of a billionaire villain.
In Bjarne Melgaards case the Meteorite shaped glass structure is surrounded, or rather held like titans, by something looking between extraterrestrials and Japanese anime figures, in contrast white/black. Whether he is planning to put his remains or ashes there, I do not know.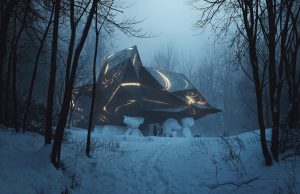 I visited Bjarne Melgaard exhibition in Fine Art Gallery in Oslo and in Tadeusz in London. I was perplexed by hypnotic soundtrack of something reminding poetry "Thelma, tell meg, Thelma feels meg" *Thelma, tell me Thelma save me. Thelma was a heroine of new Norwegian film production about teleportation, waking same topic.